PORIFERA opens at Index Art Center!
6/13/2017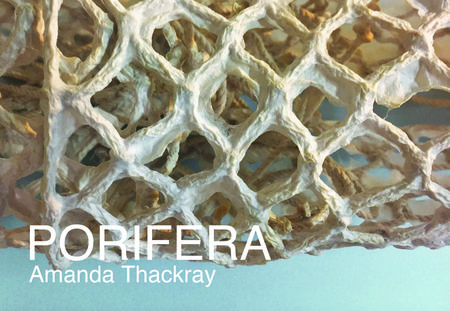 Porifera, a solo show by Amanda Thackray

Index Art Center Side Gallery
Reception: Saturday, June 24th, 7 - 10pm
Exhibition Dates: Saturday, June 24th - Friday, July 21, 2017

Index Art Center is pleased to present "Porifera," a solo exhibition of artwork by Amanda Thackray. Inspired by the relationship that scientists and researchers pursue with nature, Porfera is an amalgamation of fantastical narratives of sea sponges that spin cold, flexible glass, lizards that re-grow limbs, and the desire to understand and borrow. A mixed-media installation of twine dipped in abaca fiber, Porifera hangs from the sky tethered by decorative chains, and grows forward as a prosthetic tunnel. At once, the abaca is taut like a skin, yet porous, revealing thousands of tiny granules winding within.

Porifera is funded in part by the Purchase College Part Time Teaching Support Award, provided by faculty development funds from Emily and Eugene Grant.



Also on view in the Index Art Center main gallery:
LIGHT YEARS AWAY curated by WAVELENGTH
https://www.facebook.com/events/507203929403914/

---
Newark Open Doors Arts Festival is this weekend!
10/21/2016
I am excited to announce that I will be participating in a number of shows this coming weekend, all in downtown Newark, in addition to opening up my studio for Newark Open Doors Arts Festival! I hope to see you this weekend!


Below is a list of exhibitions where I am performing or showing work.
For a full list of OPEN DOORS events and activities:
https://newarkarts.org/opendoors/
https://newarkarts.org/wp-content/uploads/2016/10/StarLedgerPullOut.pdf
http://hyperallergic.com/328692/newark-arts-open-doors-citywide-arts-festival-kicks-off-october-19/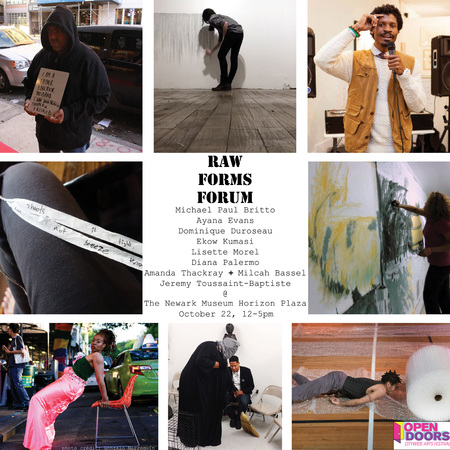 Raw Forms Forum, curated by Dominique Duroseau
The Newark Museum Horizon Plaza, 49 Washington Street
Saturday, October 22, 12-5pm
https://www.facebook.com/events/731371500345611/

I will be performing a collaborative work with Milcah Bassel based on the action of creating one of my primary studio mediums - handmade paper rope. The piece lies in conversation with recent collaborative performance works by Janine Antoni, Anna Halprin, and Stephen Petronio that took place at the Fabric Workshop and Museum in Philadelphia.

Raw Forms Forum is a series of performances by a group of individual artists that are using an outdoor public space to engage in a series of dialogue with the community and each other. Through Process, Actions and Performances they will respond to topics that range from institutional, political, historical, fictional and socially conscious. They will temporarily transform the Newark Museum's Horizon Plaza into their Laboratory as the community/audience observes, engages and/or participates.

Amanda Thackray + Milcah Bassel, Lisette Morel, Ekow Kumasi, Diana Palermo, Jeremy Toussaint-Baptiste, Dominique Duroseau, Ayana Evans, Michael Paul Britto



Gallery Aferro Open Studios
73 Market Street, Third Floor
Sunday, October 23, 11-4
https://www.facebook.com/events/1222728294457781/

I will be opening up my studio on Sunday and am excited to share a new installation, works on paper and sculpture, especially some new cast glass pieces! Come stop by, we will have snacks and drinks and a lot of great art! Don't forget to stop by Open Studios at Index Art Center, at 237 Washington Street, and the Newark Printshop at 304 University Avenue both right around the corner.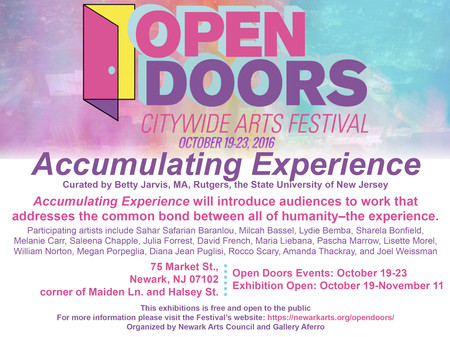 Accumulating Experience, curated by Betty Jarvis
75 Market Street Gallery
October 19 through November 11
https://www.facebook.com/events/1777064459240689/

Opening on October 19, the exhibition Accumulating Experience will introduce audiences to work that addresses the common bond between all of humanity–the experience.

Curated by Betty Jarvis, M.A., Art History, Rutgers the State University of New Jersey, New Brunswick, the exhibition is part of the Open Doors: Citywide Arts Festival organized by the Newark Arts Council and Gallery Aferro. Participating artists include: Sahar Safarian Barahlou, Milcah Bassel, Lydie Bemba, Sharela Bonfield, Melanie Carr, Saleena Chapple, Julia Forrest, David French, Maria Liebana, Pascha Marrow, Lisette Morel, William Norton, Megan Porpeglia, Diana Jean Puglisi, Rocco Scary, Amanda Thackray, and Joel Weissman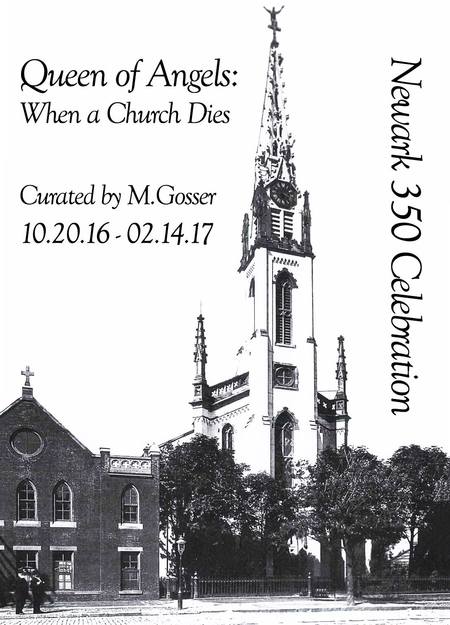 Queen of Angels: When a Church Dies, curated by M. Gosser
270 Central Avenue
Opening Reception: Sunday, October 23, 4-7pm
October 20 through February 14
https://www.facebook.com/events/1451070301587995/

The exhibit is centered around the recently demolished Queen of Angels church in Newark, NJ. Participating artists were given access to artifacts from the demolition site, and were asked to reflect on the Newark's 1st African American Roman Catholic church, a landmark where Dr. Martin Luther King Jr. once spoke.
---
RAW FORMS FORUM at Newark Museum, Saturday, October 22 at 12 PM - 5 PM
10/11/2016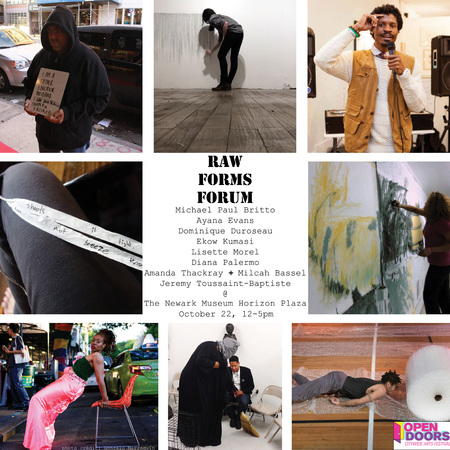 I am excited to be sharing a new collaborative performance piece at the Newark Museum as part of the 2016 Newark Open Doors Arts Festival.